Intro from Meghan: This is the follow up to Gina Baucom's guest post last week on her experience asking on twitter about sexist comments made about women in academia. In that post, she summarized (and categorized) the variety of sexist comments that occur regularly in academia. The responses to her initial tweet were overwhelming, and her original post generated quite a lot of discussion (some of it, unfortunately, sexist). In this post, Gina has thoughts on how to move forward (with some additions from me at the end). Here's Gina's post:
"We need to reshape our own perception of how we view ourselves. We have to step up as women and take the lead." -Beyoncé
In a previous post, I summarized how a small first-person narrative gathering exercise went awry and broke my twitter feed, and that of my twitter friends. It also gave people a place to vent and share the crappiest and most unfair thing they had heard said to or about a woman. In this post, I aim to step up and give my two cents on the wtf-ery*, tell you how I choose to think about this moving forward, and provide a potential set of responses for when such statements occur. Further, in the postscript, Meg adds some more thoughts on responding to crappy statements. Add your own ideas in the comments!
While the tweeted crappy statements were flying all over the place, many DM'd me private and/or anonymous examples. Some people told me they had similar experiences** but didn't feel comfortable airing them. Some women tweeted that this was making them think science wasn't the right place for them. Before I address this unfortunate outcome and add what I learned from the experience, I want to stop and acknowledge a few things. Stay with me, because acknowledging someone's experience is the first step in making a space where change can happen.
First, I acknowledge the discomfort/upset/annoyance/anger of the person that has had a terrible thing said to them. I am sorry people suck. Second, I acknowledge that some who read the twitter feed may be unhappy with the realization they have been a jerk to others by saying similar things. If you recognized a comment that echoed something you have said in the past, I hope you use it as a learning experience. No one outed you, and now you have the opportunity to do better. Third, I acknowledge that as a bystander, whether male or female, trying to respond in the moment is difficult. Finally, I think it is important to acknowledge that we can all screw up in social situations, but that we should all aim to be better when we do. I have certainly stuck my foot in my mouth before. A few times. (Narrator looks around while someone coughs loudly in the background).
What is my overall take-home from the tweeted responses? Primarily, that if you are female, at some level, a ridiculous, untrue and damaging thing may be said about you***. It doesn't matter what you do or don't do. A woman's ability and intelligence may be questioned regardless. Likewise, her appearance may be the source of jokes. Too pretty? You clearly aren't serious enough to be a scientist, and/or you're only getting attention because someone wants to sleep with you. Yes, it's distressing. At another level, however, I find this knowledge kind of freeing. To me the majority (if not all) of the statements seemed to be divorced from reality and were part of some kind of in-crowd exclusionary tactic (I realize exclusion is a reality. But the statements themselves are pretty much entirely crap, yes?). After a couple of weeks ruminating, my response is basically this:
Of course the attitudes in the tweeted responses are a huge problem if (when?) they translate to restricted opportunity for women, so let me be clear in that I am in no way letting people off the hook for saying ridiculous and unaware things about women. But in the local, immediate sense, worrying about IF they are going to be said about you, or interpreting it to mean you shouldn't be in science is the wrong road. Knowing that it may happen, picking yourself up, gearing up, and doing kick-ass science regardless of the static in the background is the right road. Please quote me on that.
I want to stress (and I'm using underlined text so you know I'm getting heated and typing VERY LOUDLY) that it is distressing to think of the promising scientists who are women and/or underrepresented minorities that may leave science because of the environment, whether it be hostile or unwelcoming.
To anyone who is questioning whether their gender or some other aspect of their identity makes them unqualified to be a scientist: You are good enough for science. You are good enough regardless of how you dress and regardless of how others perceive you physically. I don't care if you wear a damn potato sack or 3 inch heels and bold lipstick. It does not matter how you look, it matters that you have space and time to work, to perfect and apply your ideas. A woman's body representation at work is only relevant to how SHE feels about it, and to everyone else that feels they must comment: it's none of your damn business. Put another way, I want you to look however you need to look to have the confidence that leads to super good, novel science. It is my hope that your ideas are flawless and stem from a place of confidence and kick-ass. Further, women are not less intelligent than men, so when someone is criticizing you or you overhear something negative said about ability or intelligence in regards to a woman, I want your spidey senses to prick up. Be suspicious. Don't believe it****, smack it down if you feel comfortable doing so, and try not to internalize it. And then go slay that project, amirite?
"Change requires intent and effort. It really is that simple." -Roxane Gay
For those of you who told me they read a few tweeted responses, got disgusted, and kind of shut the computer and walked away; for the people who want to support women colleagues and students (and by people here I really mean men in the room that were super shocked); and for any of you who haven't quite landed on the feminist ship, I gotta tell you — and I'm going to be straight up about it — this is a feminist issue. This is why feminism exists, and, a great example of why everyone should be a feminist. Inclusivity and equality. All of us***** need to work together on this to retain and promote talent, and the path to doing so is already there: pick up a book by Rebecca Solnit, Roxane Gay, Chimamanda Adichie, read about the intersection between feminism and science, note the women who have been working very hard to keep women in science SAFE, find & read the bloggers and WOC/BlackandSTEM scientists on twitter, AND FOR THE LOVE OF FSM, go to the diversity in science luncheons that your society or university organizes. Ask your department to host an event related to diversity in science — or, better yet, offer to organize it yourself. Find the local people who will help you formulate and enact your ideas. These contacts will provide you a community of people who are working on this issue and want to help. Given that we've lost our security blanket at the federal level, we need everyone at the local level to not only recognize these problems, but to get active.
THIS IS OFFICIALLY YOUR INVITATION SO OMG GET INVOLVED. Don't simply have this awakening, go 'Huh, whaat can I doooooooo' and abdicate this work to the women. We need everyone to think about feminism, and in an intersectional way. Women of color have different experiences than white women. The concerns of disabled women may be, in part, about access to space (think conference accommodations!). Gay scientists experience bigotry that I as a married hetero-seeming woman don't. Trans folks are worried about a host of things, including safety concerns, that I don't think about on the regular. All of these groups have components in common, and components that are different. But we're all here. We all want to science.
A very important note, that should be a whole blog post, or an article, or a book, or a volume. In my original tweet, I said 'women.' I did not ask the question in an intersectional way, and even when I was thinking through the reasons why women would be excluded from speaking opportunities, my first thought was not 'racism.' This shows my privilege as a white woman; I think first on the gender axis rather than think about the multiplicative issues that WOC experience. Please take the time to read through responses from WOC/POC that are currently being documented via twitter, and you can add your own through SurveyMonkey.
And now to some distilled responses for when you are caught unaware by crappy statements. In the below table, I supply a response that one might want to use in a conversational, 'Hey, let's talk about what you just said' kind of way. My second group of responses aims to be a little more direct, and my third group of responses is basically 
. It's your choice in how you respond, and different people will respond differently. You're capable of doing the math and choosing the appropriate response to the situation at hand. (Note that instead of responding immediately, you may decide that discussing what was said with a supervisor is the right answer for you).
| | | | |
| --- | --- | --- | --- |
| Comment type | Conversational | Direct | |
| Right to be in workplace | What do you mean by that exactly? | That sounds like you don't believe she/he/they belong here. I assure you that they do. | Perhaps you need to visit HR for a lesson on legal hiring practices and/or equal access. |
| Body objectification | This is surprising, do you want to re-clarify? | I'm uncomfortable by this comment. | This body is not here for your viewing pleasure, so shut it down. |
| Pregnancy-Negative | Very successful female/male scientists are also mothers/fathers. | I disagree, since having children is a basic human right. | GTFOI |
| Awarded/offered because…. | In my opinion, they were awarded this due to XYZ components of their work, which was novel (groundbreaking) because ABC. | Do you have data to back up this assertion? | Snort-laugh, that's total BS! |
| Emotional state, i.e. crazy or bitchy | I'm concerned the way you phrased this is ableist and damaging. | You're lucky to never have experienced mental health issues. | I find that offensive and unnecessary, and ask that you do not use those terms around me. |
| Likening to a girlfriend/wife or prostitute | Isn't XX your student? (Raises. eyebrows.slowly) | I never think about professional contacts in that manner. | That is unconscionably inappropriate. |
| Sexually explicit or threats | That is unconscionably inappropriate. | I have HR on the phone. They want to talk to you. | I called the police, and they would like to chat with you for a sec. |
| Toxic masculinity | Can you repeat that? I'm not sure what you meant here. | Why does his body size or shape matter to you exactly? | That is unconscionably inappropriate. |
(Note: the last entry in the table has been updated in response to feedback in the comments. Also read here in the comments for ideas for alternatives to the "ableist" response [and thoughtful discussion of why those alternatives might be preferable].)
So what next?
Do any of you remember the game frogger? Are you laughing because you weren't expecting me to reference frogger? I used to play this as a kid on the Atari (the Atari! lolz) with my brother on Saturday mornings. I can't help but think of awareness of others and self-awareness as kind of like a frogger game.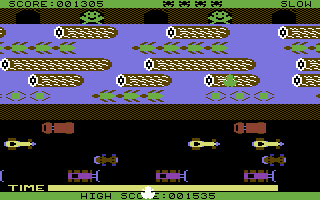 Sometimes you make it across to the other side because you are paying attention and make the right moves. Other times you screw up and end up splattered on the road or you end up drowning. Sometimes you move backwards to avoid certain death, and other times you wait on that log for a while before making a move. If you are new to the realization that women and other marginalized scholars deal with obnoxious and damaging statements, or that there is a level of toxicity aimed toward scientists from underrepresented groups that you weren't quite aware of before, I hope you move forward with deliberate and thoughtful steps as you consider how you will improve the environment. If you are like me, you will sometimes get swallowed by that alligator and you will need to do some apologizing. There is no shame in that, and there is no shame in learning from our mistakes and moving forward. Below, Meg provides an expanded set of ideas for people who find themselves in the role of bystander. I hope you find our combined ideas and suggestions useful.
Postscript from Meghan:
First, I want to thank Gina for doing the hard work of summarizing all the responses, for highlighting this issue, and for moving the conversation forward! I wanted to add a few things:
One thing I've learned from attending bystander intervention workshops — and from having been a bystander to and a victim of these sorts of behaviors — is that most people do not respond in the moment they way they think they will ahead of time. Here's one study on real vs. imagine responses to gender harrassment. From the abstract of that study, "Results indicate that interviewees who are actually harassed react very differently than those who only imagine their responses. For example, imagined victims anticipate feeling angry but actual targets report being afraid. Anticipated behavior also did not mesh with actual behavior."

Role play is really, really helpful. It feels silly, but it makes it much easier to recognize and respond in the moment.

If you don't reply right away, it's not too late. You can revisit it later, either with the person who said something (e.g., "I wanted to ask you about something you said at the faculty meeting last week, because it's been bothering me…"), with a superior (e.g., if a faculty member said something and you are a grad student, you might want to report to another faculty member, your chair, or someone else), or with someone else. As the replies to Gina's first post indicates: a lot of men are not aware that this sort of thing goes on regularly. So, sometimes I've responded to a sexist comment by telling male friends and colleagues about it, both to vent and to make them more aware of what is going on.

Another really useful strategy (which relates to ones in Gina's table) is simply asking someone to rephrase what they said. You can either pretend to not have heard everything (e.g., "I'm sorry, I didn't hear you. Can you repeat that?) or you can call them out a bit more directly, (e.g., "I think you just said she got that postdoc because her advisor likes Latinas. I must have misunderstand. Can you say it again?")

Don't tell someone they are sexist (or racist or transphobic or anti-Muslim or whatever). Tell them what they said sounds sexist (or racist or transphobic or anti-Muslim). Gina already linked to this video on how to tell someone they sound racist

above, but I want to link to it again down here because it's such a great introduction to this idea.
Footnotes from Gina:
*I 100% borrowed this from Trae Crowder.
**I mentioned this last time but will do here again. While the twitter responses were most often male toward female, there were examples wherein women said negative things to or about another woman. Lemme repeat: women are socialized right along with men by the patriarchy.
***I didn't ask how often men are the subject of crappy statements and unwanted sexual attention, and I know they can be. I doubt, however, that men experience the frequency and intensity of negative attention that women deal with. It would be great to see this done as a properly controlled experiment!
****That said, be willing to listen to people that are giving you feedback on your work. It is sometimes difficult to learn how to separate real advice on your ideas and performance from statements that are said by others out of jealousy and insecurity, but you must learn how to differentiate the two, because taking feedback is critical to growth.
*****"We don't all have to believe in the same feminism. Feminism can be pluralistic so long as we respect the different feminisms we carry with us, so long as we give enough of a damn to try to minimize the fractures among us." -Roxane Gay, Bad Feminist
Thanks to Meg and the rest of my science posse for giving me feedback on this post, and to ljh for reminding me that all of it is important.