Early in the semester during an Intro Bio class, a student asked about whether it's ever possible for individuals of two different species to breed. That led to discussion of zebroids and, at some point in the back and forth, I mentioned that Homo sapiens had successfully interbred with Neanderthals. At least a quarter of the students (maybe even half) were visibly surprised—and I didn't even explain that the evidence is this happened repeatedly! (Don't worry, we covered that in a later lecture.) That night, I was making lunch for my kids and thinking about that moment in class, and I thought "Just wait until I tell them how much of their genome is viral!"
There are parts of teaching Intro Bio that are hard or annoying or both. But there are some parts that I absolutely love, and one of those is routinely getting to introduce students to things that are literally jaw-dropping. It makes me think of this xkcd: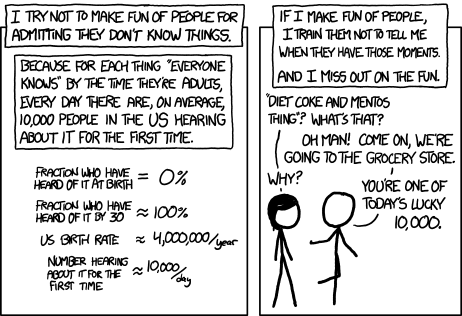 It is always a highlight of my day (week!) when we have one of those moments in class.
So, in that spirit, I present an incomplete list of things that blow the minds of Intro Bio students (many thanks to my colleague Cindee Giffen for helping me with this list!):
(Almost) all of your cells contain all of your genes
Humans interbred with Neanderthals (repeatedly)
About 8% of the human genome is viral in origin
Plants get infected by viruses. (This comes up because I show a thermal image of a plant leaf that has been infected by a virus when talking about respiration. Speaking of which…)
Plants respire
There are photosynthetic organisms that are not plants
Male anglerfish fuse to the female
Taxonomy, including humans are fish, whales are mammals not the things we generally mean by "fish", and birds are dinosaurs. Or, to quote a former student, "So, sharks are fish, dolphins are mammals, whales are mammals too, and penguins are birds, and birds are dinosaurs, so penguins are dinosaurs?!?"
I sometimes think that, if we filmed students while introducing those things, we would get really, really good reaction gifs.
The above list are mostly factoid sorts of things, but there are some bigger conceptual things that are definitely mind-bending for some students. Three that immediately spring to mind are:
The same thing can be an ancestral or derived trait, depending on your frame of reference
The way you can zoom in through taxonomy, sort of like you're zooming through Google Earth (for example, humans are eukaryotes and animals and deuterostomes and vertebrates and mammals and primates and apes and hominins)
Food webs — that something happening way over here in a food web can influence something way over there, and also the differences between how energy flows and matter cycles
Another thing that definitely blows their minds is that ecology involves math. I address this head on now at the start of the population ecology class, and my sense is that helps, but it still really surprises many of them when equations start appearing.
I initially started compiling this list because I thought it might be interesting to others. But I've found it has helped me during a very busy, challenging semester — it's ended up being a really nice way of noting the little things that are fun that I might otherwise just blow right by in a frenzy of trying to get things done. (It's also led to me adding notes to the front of my lecture notes that say things like "damselfly sex", in an attempt to remember to add that to the list.)
So, I'm curious:
What things have you found blow your students' minds (in a good way!) And
Do you have any routines or other things that help you note the little, fun things that occur while teaching?